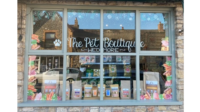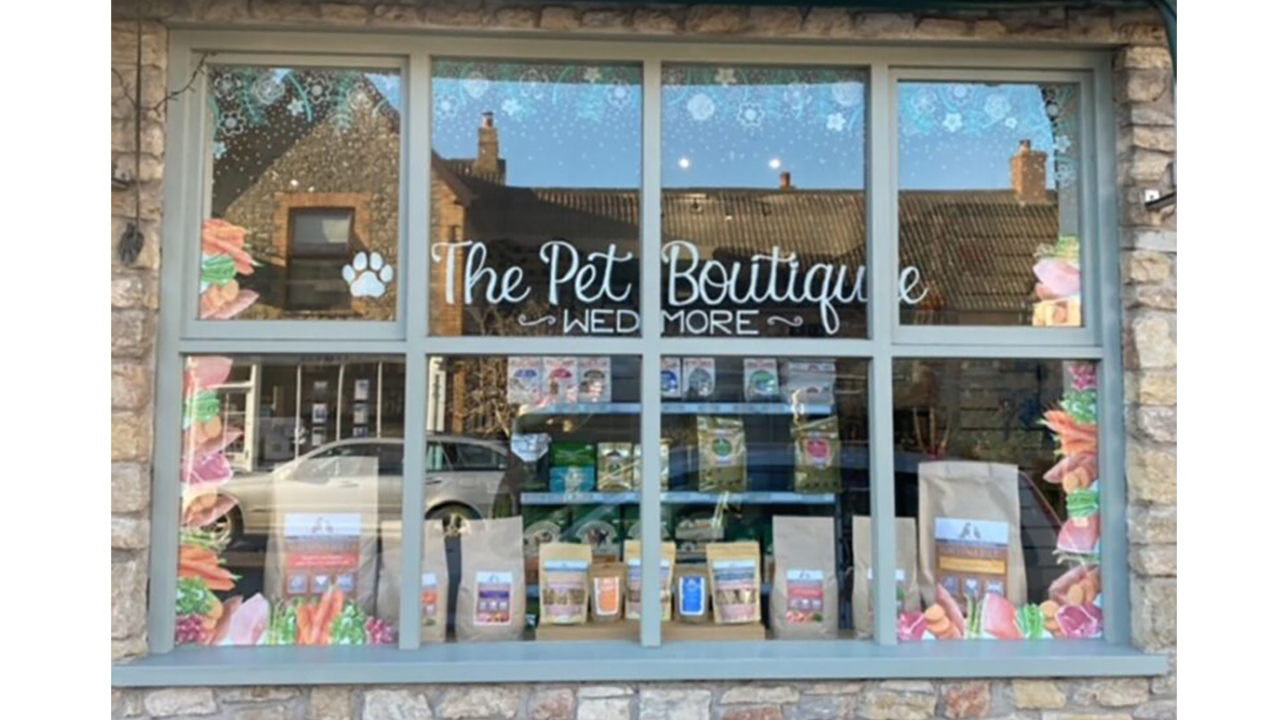 As pet food consumers become more knowledgeable about the products they buy their pets, they are becoming equally as knowledgeable about the number of avenues to purchase. Recent articles published in the media have led us to believe that consumers are increasingly purchasing products online. So how can pet stores differentiate in an online world if this is the case? Within this article, we will focus on how pet shops can keep their customers shopping in-store. In addition, the article will look at factors that pet stores need to consider if they are looking to move online as an extension to their current in-store offering.
Pet Store Offering
When it comes to a pet shop that wants to differentiate, it is crucial to think outside the box. Customers now have a variety of methods to shop for their pets, and your pet store needs to stand out to increase footfall and, ultimately, sales. A great way to showcase your offering is by ensuring the shopping experience is flawless. According to Super Office, 86% of buyers are willing to pay more for a great customer experience. A must for shopper experience is the shop's layout. Is the shop easy to navigate? Can customers find products with ease? There needs to be a balance where the layout is straightforward but also spacious. Other areas to think about with your store's layout are the colours of the walls, the lighting, and the point-of-sale items.
Another aspect of your pet store's offering is the service and communication. For example, how colleagues interact with customers is an essential component of this. Having friendly staff seems like a no-brainer, but you'd be surprised at the number of employees that can come across as disinterested or even rude to customers. Welcoming colleagues will entice customers to return to your pet store rather than shopping elsewhere.
How can pet stores differentiate themselves?
This section will focus on ways in which your pet store can look to differentiate itself in an online world.
The key to success for any brick-and-mortar outlet is to offer unique experiences that cannot be replicated online.
Hosting in-store events
A great way to differentiate from online is holding in-store events for your customers. With these events, your pet shop can build a community, engage with customers and increase sales. Event Marketing Institute found that 87% of consumers claim to purchase a brand's products after having attended one of their in-store events. This suggests that events are a fantastic way for your pet shop to differentiate from online businesses. Some examples of events include puppy socialising classes. This event teaches puppies to be trained and gets like-minded people in one place.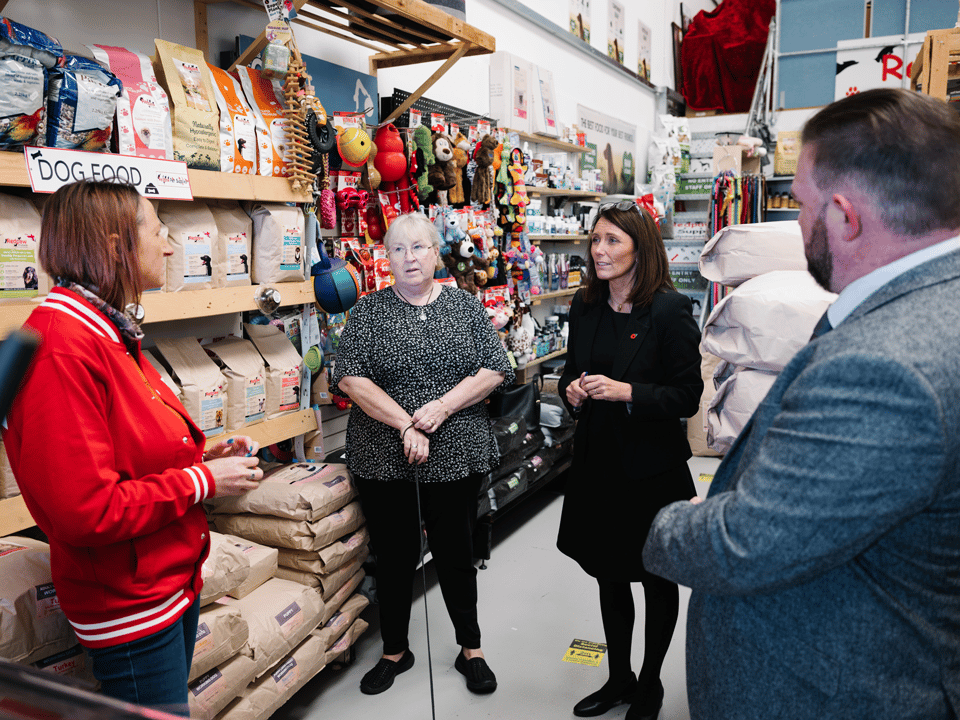 Remember – if you can get a puppy on your food, this could be a lifetime of custom. A puppy socialising event also presents an opportunity of showing best practices. Another popular event to consider is a nutritional evening. Here you can provide pet owners with insights about your products' benefits and what makes them unique. This will no doubt attract customers to a pet shop because of the expertise that they are provided with.
Pet Grooming Service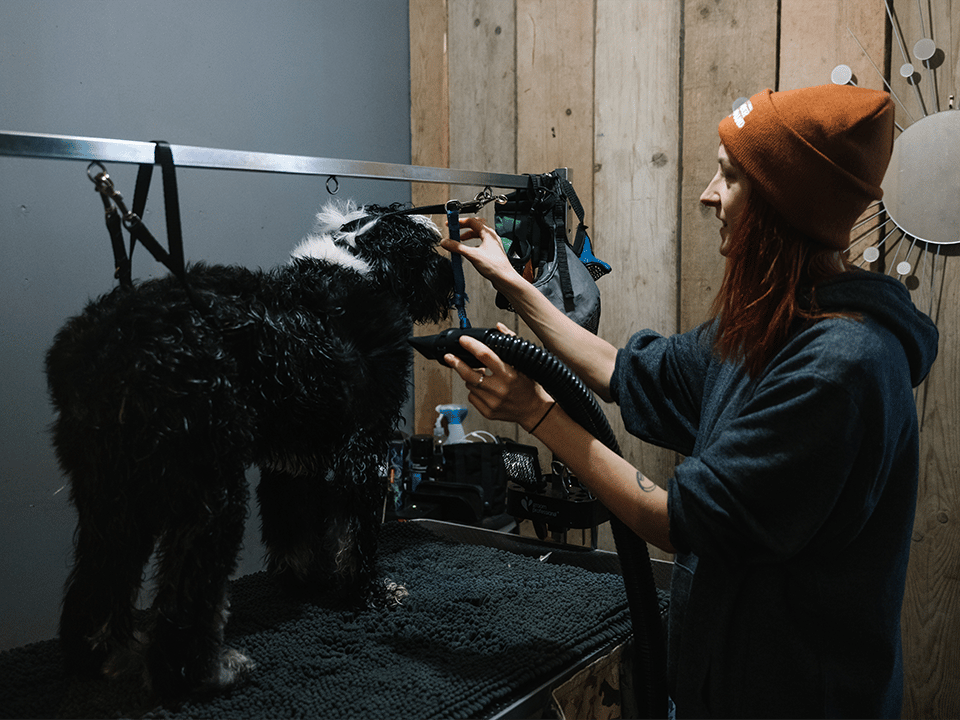 Pet Grooming is one of the most common services for pet owners to use, as many owners do not have the skills or knowledge needed to groom correctly. As a pet store, this is a fantastic way to differentiate from online retailers as this is something that can't be offered online. A grooming service can be set up by inviting a groomer to trade in your shop or training to become one yourself as a pet shop owner or employee. With people wanting their pets to receive the best, the number of pets being groomed is only set to increase. A pet grooming service is only set to increase the footfall into your pet shop and provide the opportunity of further sales.
Displaying reviews in store
Displaying customer reviews of your business is another possible way to differentiate. Many believe that reviews are for online businesses. However, that is not the case and can be displayed in-store. For example, when a customer is in your shop, you could leave a book for them to review the products they buy from your shop. Once they have done this, you could display the reviews near your products that have been reviewed. According to Brightlocal, 69% of customers say reviews are as critical as personal recommendations when deciding whether to purchase a product.
Emphasising Speed and Convenience
With more people looking to receive their products quicker than ever before. Your pet store needs to ensure they stay with the times. Many online businesses now offer next-day delivery on items, saving people time as they don't need to leave their houses physically. As a pet shop, you must emphasise to your customers that you can get their products to them as quickly as possible. Presenting a same-day delivery service is a fantastic way to retain customers. Not having a product in stock is the fastest way to lose customers. For your more popular items, it's crucial to always monitor stock availability.
Opportunity to touch and smell products
A key differentiator for pet stores is that customers can come in-store and touch and smell products. This helps customers make a potential purchasing decision and make the right choice for their pet. According to TimeTrade, 87% of customers want to have an experience with a product before making a purchase. An example where a pet shop can allow customers to touch and smell their products is by offering samples for their pets to try before purchasing the entire product. This may be one of the most important differentiators between a brick-and-mortar store and online, with customers seeing an accurate value in trying products.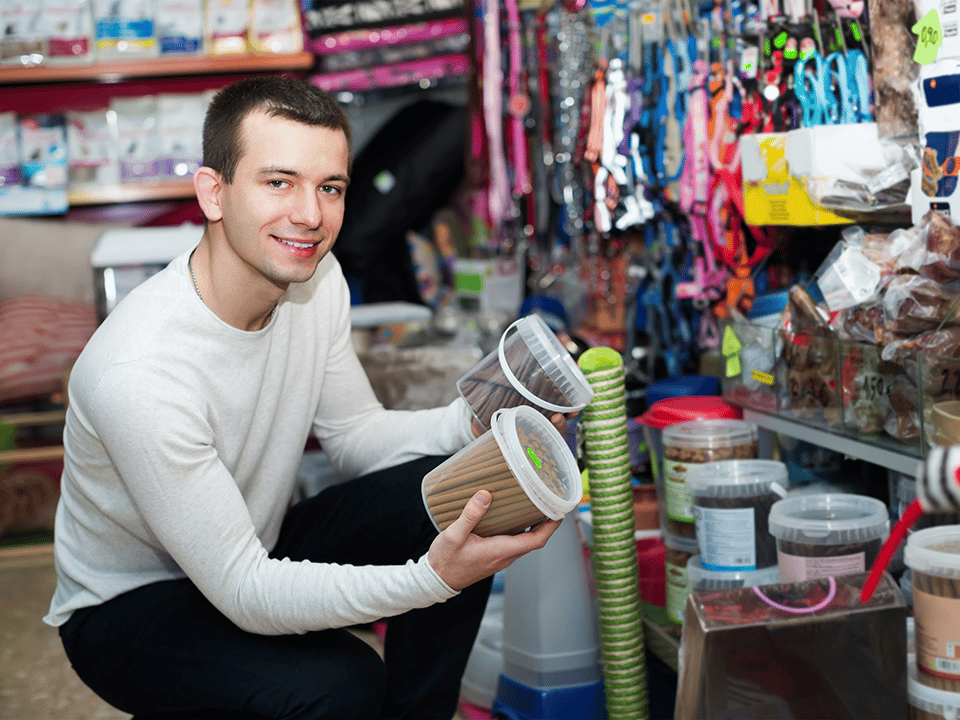 Merchandising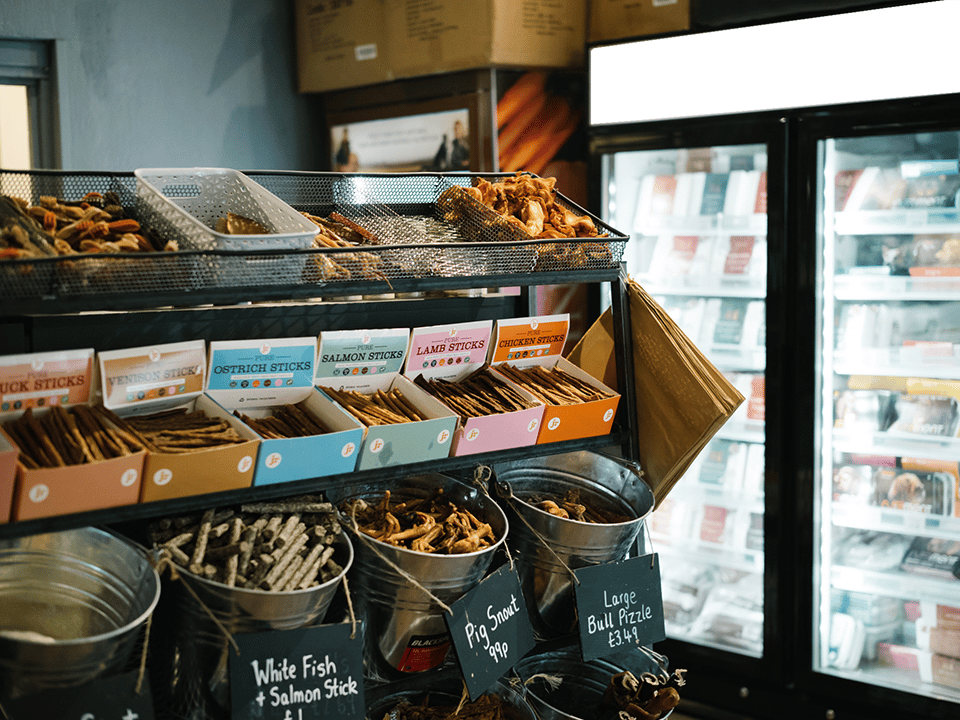 This plays a vital role in enticing customers to purchase from your store. For example, most customers want to find what they are looking to buy quickly; if they have issues with this, they may look to shop elsewhere. Pet store merchandising is essential to an easy shopping experience. A recent survey by PWC revealed that 65% of people in the UK believe the shopping experience helps people decide between buying options. In addition, a Walker report found that customer experience will overtake price and product as key brand differentiators.
Seasonal Focus
A seasonal focus is a great way to differentiate from an online pet business. Seasonal displays keep things fresh in your store, generate excitement and get shoppers into your shop. Think about what seasons appeal to your customers. Christmas, Halloween, Easter and Health and Wellness are some key events in the year that people celebrate and like to get their pets involved. A great example of a seasonal idea in the shop could be hosting a photo shoot at Christmas. Many pet owners love taking photos of their pets, so why not help your customers? This will get people excited to show off their pets in a card or pictures. A great incentive whilst their pet is having their photo taken is for the owner to shop in-store.
How can pet stores extend their offering online?
The overall theme of this article is to explain how pet stores can differentiate from online businesses. However, having an online presence as an extension to your pet store offering is also beneficial. Firstly, you can showcase what is happening in-store on your website or social media pages. This aims to entice potential customers to your store and drive more sales. Another advantage of investing in an online platform is that customers can view products at any time of the day. Pet shops are a great place for pet expertise. A pet shop can utilise its expertise by creating an online blog for people to find out information about nutrition, pet habits and challenges. Customers who find the information in a blog helpful will be inclined to see more details in-store.
Summary
To summarise, it is more important than ever for pet stores to keep their customers shopping in-store. Shops need to focus on their customer offering, starting with the look and feel of their shop. This includes store layout, colours and lighting, directly impacting the shopping experience. Recent research has found that 86% of buyers are willing to pay more for a great customer experience.
When it comes to differentiating from online retailers, there are many things that pet shops can do. Hosting in-store events is one method which represents a fantastic way to build a community and engage customers. Another excellent way for pet shops to stand out is by implementing a pet grooming service; this service is increasing as the number of people pampering their pets grows. Many people believe that reviews are for online businesses only. However, this is not the case and can be an effective way to encourage your customers to purchase a particular product in store.
References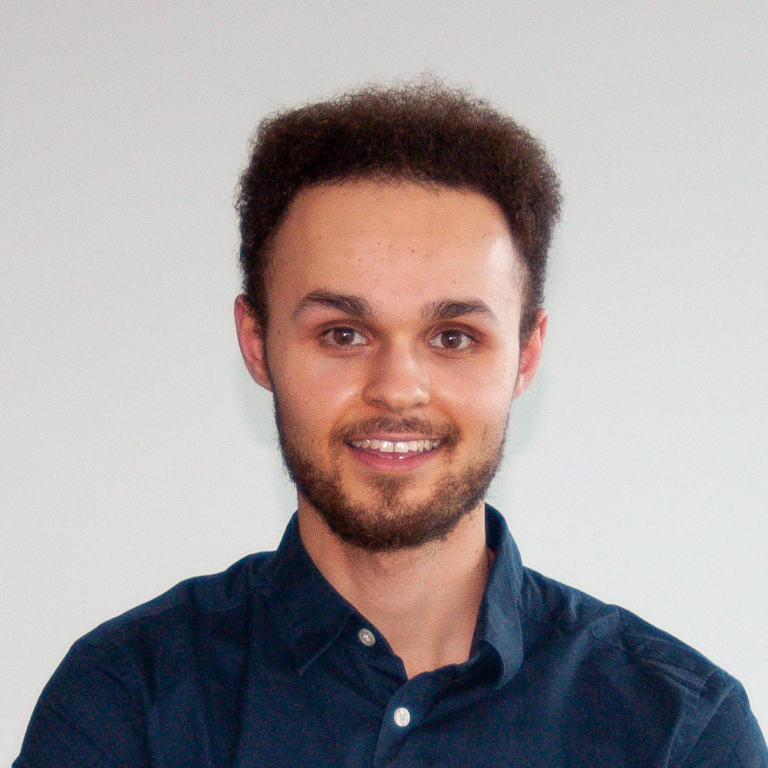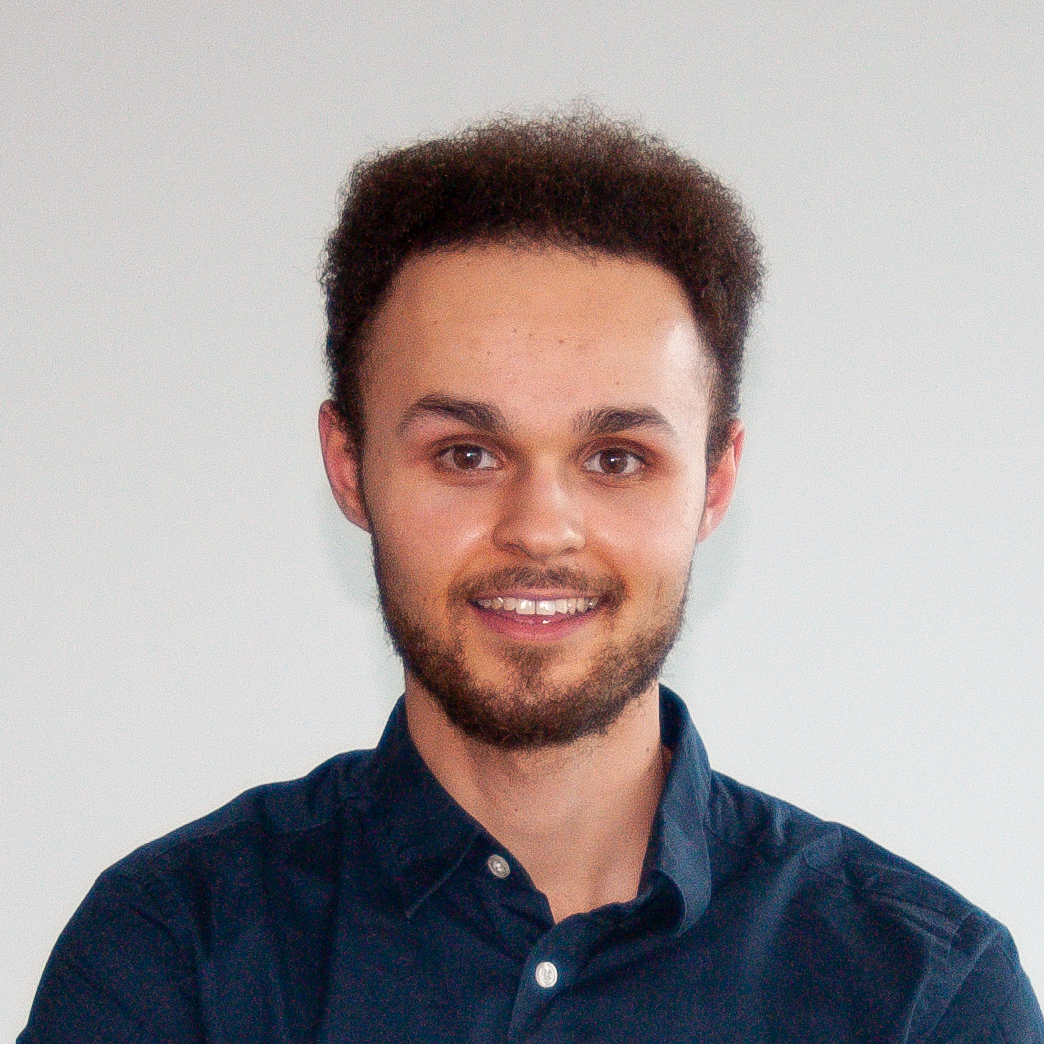 Matthew Aiken
Marketing Communications Expert
Matt graduated in 2017 with an undergraduate degree in Business & Management. Here he discovered that he had a passion and interest in Marketing. In his spare time, he enjoys anything fitness related and getting outdoors. He also has a French Bulldog called Harley and a Persian cat called Bonnie Blue.
You may also like...
Article written by Matthew Aiken